Highland Shifter by Cathrine Bybee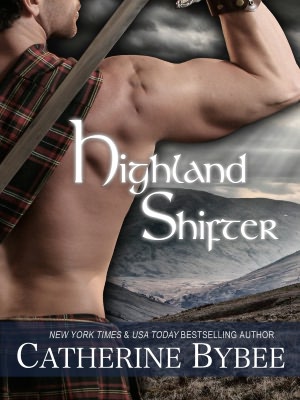 Book Description on Amazon.com
Helen Adams has a knack for finding lost objects, but the Simon McAllister she finds isn't what she expected. The missing California teen is now a grown man—a kilted, sword wielding, Highland warrior.
A mysterious Druid book and Helen's sixth sense send her to Scotland in search of a missing boy. After being attacked by strange men dressed in medieval garb, a handsome, desirable hero answering to the boy's name rescues her. No one is more surprised than she to find herself in sixteenth century Scotland. Unable to deny the reality of time travel, Helen discovers smoldering passion with a man destined to leave her.
Simon has lived his Druid life in two very different worlds, two vastly different times, and when Helen practically lands in his lap, he knows his life is about to change forever. There are enemies in California lying in wait for her, and an army in Scotland closing in on his family. Simon is the only person who can protect her. But when she learns his most guarded secret, will she still want him? Can Helen love a Highland Shifter?
My Review:
Highland Shifter is the first book that I have read by Catherine Bybee, and I enjoyed it.  This book kept me entertained and held my attention.   I enjoy reading time travel historical romances, so I decided to give this one a try! Simon, the hero in the book is a Druid and can change forms at will.  It does help that is a gentleman, sexy, a highlander and from Scotland (which I wish to visit one day). 
The heroine, Helen, is stubborn, compassionate and falls in love with Simon (the hunky Druid).  Helen is from the 21st century and searching for a little boy that went missing.  She has a six sense about things and never considered it special until she gets thrown back to 15th century Scotland, where she meets Simon.  Helen and Simon work together to find out who is trying to destroy his family and where Helen fits into it all.  
There were a few things in the book that were a little unbelievable to me though.  Like the hero changing into a wolf (which we have heard of the legends of werewolves), which I accepted (but don't believe).  He also can change into a falcon (I excepted that even I don't believe it), but when he said he could change into a shark I rolled my eyes.  Ms Bybee should have left the shark bit out of the story.  I don't believe in time travel either, but the thought is exciting!   Even after the shark deal I kept reading (yes I did).  
This story was full of love, family, mystery and a little magic.  It also has a few twist and turns that kept me interested.  I usually prefer the heroine to be feisty and the hero to be a play little hard to get.  I also like a little more conflict, but all in all this was a fun read that held my attention right up to the very end.
Thanks For Reading!
(There are some affiliate links in this post.  This review is my own and I was in no way compensated for it.  I purchased this book myself.)